How do you teach your students to function effectively in teams?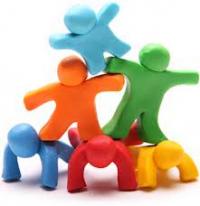 In the engineering disciplines, educators and employers alike place high value on teamwork skills.  Project teams are an important part of our work culture, so student teams are frequently assembled for course projects, especially in laboratory, design, and elective courses.  While the concept of effective teamwork is highly valued, few instructional hours and resources are typically devoted to specifically developing this skill within the canonical undergraduate engineering education.  Providing the opportunities and training for students to develop mastery in teamwork skills requires careful thought and course design.  A recent workshop I attended, led by Dr. Denny C Davis (http://www.asee.org/public/conferences/20/papers/5944/download), invites educators to give more focus to the process, not just the product, in student teamwork.1  In this blog post, I describe the ways the teamwork process takes center stage in the final course project in CBE 185, Technical Communications for Chemical Engineers.

CBE 185 is a junior-level required course for all chemical engineering undergraduate students at UC Berkeley.  The course is offered in sections of about 30 students each, and takes an active learning, workshop style approach to developing written, spoken, and interpersonal communication skills for the chemical engineering workplace.  As much as possible, I like to use multiple-draft assignments with a high degree of authenticity, such as cover letters for entry-level chemical engineering jobs, or videos to explain a chemistry concept to a real audience of seventh graders (more details about our collaborations with non-expert audiences: http://www3.aiche.org/proceedings/Abstract.aspx?PaperID=262953 and http://chemicalengineering185.wordpress.com/).2  Students work with each other on short in-class activities and on major course projects such as the P3 proposal project described below.

In my first years as an engineering educator, I was introduced to an eloquent book on engineering teamwork by the eminent Professor Karl Smith (http://www.ce.umn.edu/~smith/), Teamwork and Project Management (http://www.amazon.com/Teamwork-Project-Management-Engineering-Series/dp/0073534900).3  Featuring illustrative examples, accessible language, and reviews of teamwork research, this book has been my foundation for instructing engineering students in how to function effectively in teams.  Professor Smith describes the five characteristics of effective teams:
Promotive Interaction: Members do real work, usually face to face
Positive Interdependence: Members focus on a common goal, with complementary contributions
Individual and Group Accountability: Everyone takes responsibility for their own work and the overall work of the team
Teamwork Skills: Each member practices effective communication, decision making, problem solving, conflict management, leadership
Group Processing: Team periodically reflects on how well the team is working 

In 185, I try to create opportunities for students to engage with and learn about the process of teamwork by providing opportunities to develop each of these five characteristics of effective teams, using the following approaches.

Enabling success through smart team formation
I use the free online program CATME Team Maker (http://info.catme.org/) to generate student teams.4 Students enter information about their schedule, commitment level, leadership styles and more.  I set preferences for grouping (similar schedules, similar commitment levels, complementary leadership styles, etc), and the program randomly creates and ranks 20 full sets of teams, then selects the set that is optimized for the criteria.  For me, it has been wonderfully effective.  It enables promotive interaction by helping to ensure student teams have available time to work face to face on their project.

Assigning a challenging and multidimensional project
The major team project for CBE 185 is a ten-page proposal for the US Environmental Protection Agency's P3 (people, prosperity, planet) Sustainability research and design student competition (http://www.epa.gov/p3/).  Students are also required to give a 12- minute oral presentation on the proposal, and sometimes are required to create an item for a generalist audience, such as an infographic or a blog post on the topic area.  Student teams rally around their proposal topic area and develop through multiple drafts and deliverables throughout the semester.  This assignment is demanding for engineering students, who are still developing skills in creative problem solving and persuasive argumentation.  A project like this promotes positive interdependence and individual and group accountability as students take ownership of their ideas and develop in complementary tasks or roles, such as: facilitator, brainstormer, technical expert, audience specialist, and design specialist.

Coaching teamwork skills
When I poll students in class on what they think are important characteristics of effective teams, aspects of what Professor Smith groups asteamwork skills dominate their responses.  Communication, leadership, and sometimes conflict management and decision-making top their lists.  To enhance student teamwork skills, I spread multiple opportunities for teamwork skill building throughout the semester using mini lectures and practice exercises on topics including constructive feedback (articulating and contrasting the characteristics of constructive and destructive feedback, followed by peer review of a draft writing assignment) and active listening (a quiz and discussion on which of five active listening habits each person wants to improve, followed by reporting and committing on their intent to their group.

Building in time for group processing
Halfway through the project, I take time out of lecture for teams to do group processing.  Students rank their team into one of Smith's four team types:
Pseudo team performs below the level of the average member
Potential team struggles slightly above the level of the average member
Real team has complementary skills; is committed to common purpose, goals, approach; holds each other mutually accountable
High-performing team is deeply committed to one another's personal growth and success
(Students usually give a chuckle when they realize that they are probably not a high-performing team yet.)  Groups reflect on their strengths and weaknesses, and make plans for changes or corrective action to keep their project moving forward.  

It is deeply satisfying to watch students hone their teamwork skills during their semester in CBE 185.  I hope that they transfer and build on these skills in upper division coursework and in the workplace. 
What techniques are you using in your engineering, STEM, or other types of classrooms to promote student learning in the process aspect of teamwork?
References:
1          "Building Student Capacity for High Performance Teamwork." Denny C. Davis, Ronald R. Ulseth. American Society for Engineering Education National Conference and Expo, June 25, 2013. Atlanta, GA
2          "Chemical Process Videos: A Long-Distance Partnership for Outreach and Communication Skills Development." Shannon Ciston, Lindsey Own.  American Institute of Chemical Engineers Annual meeting, October 31, 2012.  Pittsburgh, PA
3          Smith, K.A. with P.K. Imbrie. 2007. Teamwork and project management, 3rd Ed. New York:
McGraw-Hill. BEST Series.
4          Layton, R. A., Loughry, M. L., Ohland, M. W., & Ricco, G. D.  (2010).  Design and validation of a web-based system for assigning members to teams using instructor-specified criteriaAdvances in Engineering Education, 2 (1), 1-28.